Our history began in 1959 when Mr. Johann Preiss founded a bakery in Göflan (Vinschgau). At that time, bread was still delivered by bicycle.

Soon afterward, the savory Vinschgauer Paarlen, with its typical sour dough and the bread clover, were famous all over the country and, owing to the burgeoning tourist business, beyond the borders as well.

In 1965 Mr. Johann Preiss and his three employees moved to Kastelbell, where he opened his first shop right on the main thoroughfare.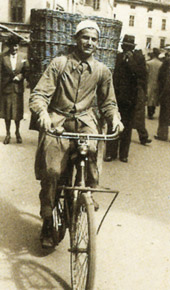 In the '80s, the bakery was handed down to his daughter, Mrs. Christine Preiss, and her husband, master baker Mr. Walter Fuchs.
Determined and motivated, they began to expand.

A network of branch bakeries was built, amounting to 10 shops today.

The export of long life bakery products was driven and it has become the main pillar of the company in the meantime.